UKV-WA5 Water Boiler
Hot water vending machine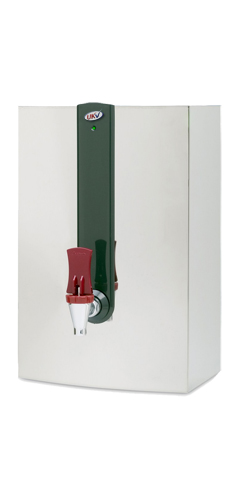 Wall Mounted Boiler
Electronically controlled to deliver water at 97°C
Stainless Steel boiling chamber
Basic diagnostics with friendly display
Large non-drip taps
The UKV WA5 water boiler from UK Vending offers customers a great water boiler that will add to your office or workspace. The UKV WA5 should be installed in a position over a draining board or work top fitted with a drip tray. The boiler can produce 27 litres of hot water per hour or the equivalent of 162 8ounce cups and is offered with Brita water filters to ensure excellent water quality at all times.
UK Vending offers the UKV WA5 with a full year's parts and labour guarantee plus easy access for service and cleaning as required.
To find out more about the superb UKV WA5 contact our sales team at UK Vending on 0800 454 301
Specifications
Should be installed over a draining board or work top fitted with a drip tray. Tap spout should be no higher than necessary for large pots
Brushed stainless steel case
2 Safety cut-outs
Low voltage switching
WRAS Approved
Choice of below or rear connection and vent
27 litres per hour output (162 x 8oz Cups)
5 litres Rapid Draw-off (30 x 8oz Cups)
Heating timer can be fitted on request
Brita water filter
Physical aspects: (H) 420mm, (W) 285mm, (D) 175mm, Weight: 7.85kg
To be wired to a double pole switched fused spur with a minimum break capacity of 13 amps.