If you're looking for a great solution to making hot drinks in a small office or workplace, UK Vending has the solution: The Flavia Fusion.
With over 30 luxury flavours of coffee, tea and hot chocolate the Flavia Fusion gives you the freedom to have delicious hot drinks in seconds. The Flavia Fusion combines the functionality of a coffee machine with an espresso machine and a teapot all in one convenient and easy to use vending machine.
Imagine having aromatic Alterra Coffee Roasters coffee, The Bright Tea Company teas as well as speciality drinks including hot chocolate and cappuccino all from one stylish and sophisticated personal coffee machine. The machines use the unique Flavia Fresh Packs that seal in perfect freshness and wonderful taste.
The Flavia Fusion is the easy to use workplace vending machine for every working environment and you can have one by calling the UK Vending sales team on 01634 304444
The Flavia Fusion from UKVending giving you the edge.
* Colour may vary, subject to availability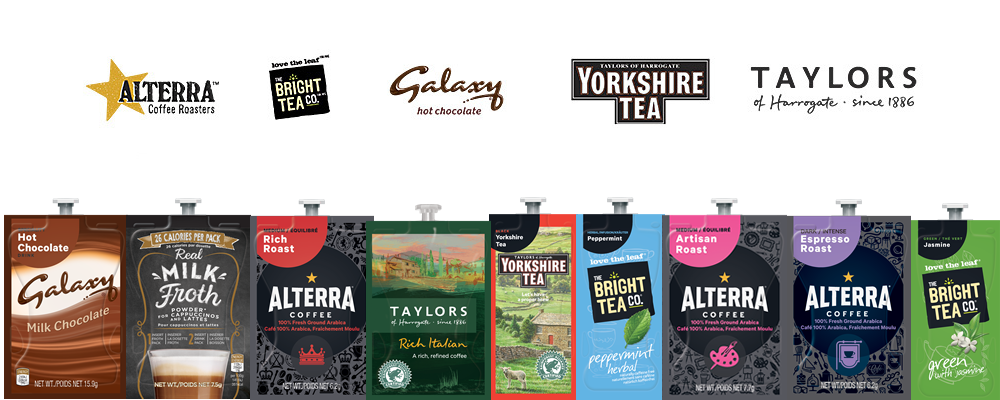 Flavia Fusion Coffee Machine
The Brewing Process
SOURCE: We Start with the highest quality ingredients - freshly roasted and ground coffee, real-leaf and herbal teas and premium hot chocolate.
SEAL: We pack our carefully sourced ingredients into the unique FLAVIA® Freshpack locking in their freshness and flavour.
SERVE: We specially design the FLAVIA Freshpack to work with the FLAVIA brewer. Together they create an optimal brew cycle within every pack. Every drink is brewed directly from pack to cup with no taste contamination giving a quality cup every time.