UKV Food Vending 8
Festival Fresh Food Vending Machine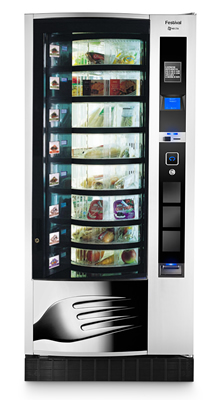 8 Drum vending
Contemporary looks
Photographic panel
Simple push button selection system
UKV Food Vending 10
Festival Fresh Food Vending Machine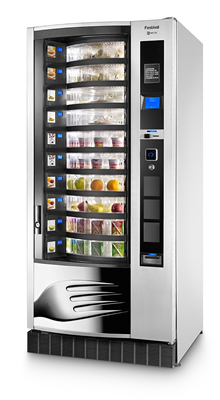 10 Drum vending
Contemporary looks
Photographic panel
Simple push button selection system
UKV Food Vending Machines
We all get peckish at work from time to time, but particularly at regular meal times. Here at UKVending we have options for vending food items to your staff in situations where traditional staff dining or canteens are not available. The machines are stylish, modern vending machines that offer great reliability, superb energy efficiency, a slide in refrigeration unit as well as being extremely hygienic.
Each of the two machines has the latest technology built in that make them effortless to use and maintain. Each 8 or 10 drum machine can be filled quickly and easily and can also be removed for filling and cleaning without the need for expensive or complicated tools. The Festival can accept both token's and coins or can be programmed to be a free vend machine if required. UK Vending machines can also be tailored to suit your office or workplace with your own company logo or other modern graphics added to the machine.
With a Festival food vending machine in your workplace you can easily load it with a wide variety of food items from pre-prepared sandwiches, fruit, snack items and drinks, the Festival Food vending machine from UK Vending is a truly unique vending machine.
Give us a call on 01634 304444 and see how one of our Festival Food vending machines could make the difference in your workplace.
Specifications
Height - 1830mm
Depth - 895mm
Width - 850mm
Net Weight+ 320Kg
No. Drums - 8-10