UKV Snack Vending 27
Melodia Snack Vending Machine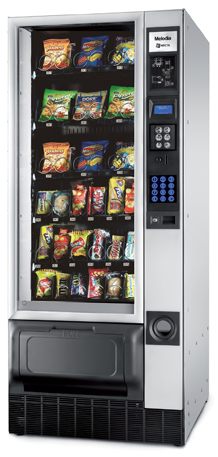 Capacity of 344 items
Choice of 9 crisp selections
Choice of 18 confectionary selections
UKV Snack Vending 30
Melodia Snack & Drinks Vending Machine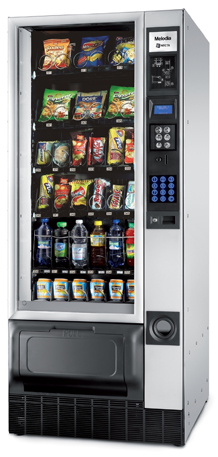 Capacity of 300 items.
Choice of 12 cold drink selections
Choice of 6 crisp selections
Choice of 12 confectionary selections
The Melodia snack vending machine from UKV allows a refreshment service for small offices or sites where space is limited. The compact design ensures a perfect fit into the tightest of spaces with no compromise on quality.
Each stylish and easy to maintain machine fits seamlessly into virtually any office or work environment and are extremely durable.
UKVending has two different machines within the Melodia range that can be configured for your workplace; The UKVending Snack Vending 27 and 30. The 27 is slightly smaller of the pair and is ideal for snacks and has a capacity of 344 items, whilst the 30 is slightly larger and can also vend 12 cold drinks. The range of products available to refill both machines is impressive with a total of 466 products available to order from UKVending.
Give us a call on 01634 304444 and see how one of our Snack Vending machines could make the difference in your workplace.
Supply only – and self filled by UKV customers
Specifications
Physical aspects: (H) 1700mm, (W) 713mm, (D) 870mm, Weight: 200kg
Refreshment choice of: Snacks, confectionary, cans and bottles.
Flexible layout with option for snacks and confectionary or snacks, cans and bottles.
Compact design slim enough to allow access through narrow doorways
Compact build yet does not compromise on selection options - up to 30 products available.
Ergonomic delivery bin
Large capacity for up to 300-344 items
Touch sensitive keypad
6 Trays