Klix Momentum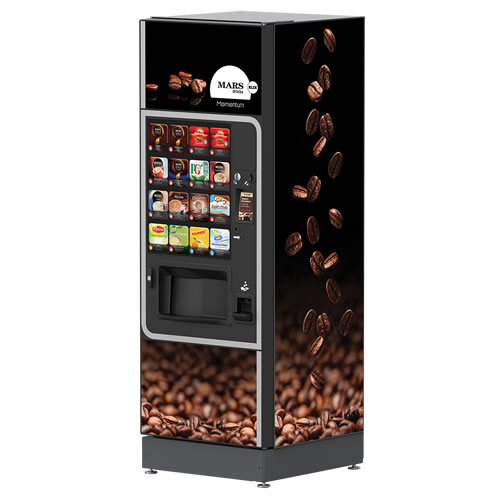 In Stock
Support (UK Mainland)*
Get Quote
For more than 40 years, we've been a leader in reliable in-cup brewing solutions. The KLIX Momentum builds on that reputation. It's designed to be easy to use, easy to clean and easy to maintain, so every drink your people get out of it is easy to enjoy.
When it comes to keeping control you can decide whether or not your staff pay for the drinks, whether they're subsidised or even free; it is that simply, you can control the cost and decide if you want to make a profit or not. You can tailor the machine to exactly match your individual needs. The KLIX hot drinks machine will always produce great tasting consistent quality drinks.
The in-built technology ensures that only the right amount of ingredients are in the cup that is then filled with pure, filtered hot water.
The KLIX machine from UK Vending makes workplace drinks simply pure and easy.
Klix Momentum Specifications
| | |
| --- | --- |
| Accepts Klix 9oz Drinks | Yes |
| Makes Cappuccino | Yes |
| Makes Hot Chocolate | Yes |
| Makes Porridge | Yes |
| Makes Soup | Yes |
| Makes Tea | Yes |
| Depth (mm) | 710 |
| Height (mm) | 1830 |
| Width (mm) | 630 |
| Cable Length (m) | 4 metre |
| Current (Amps) | 13 |
| Frequency (Hz) | 50 |
| Power (Watts) | Yes |
| Voltage (V) | 230 |
| Weight (kg) | Hot: 103kg - H/C: 134kg |
| Water Pressure | 1.0 - 7.0 bar; 15 - 100psi |
Klix Momentum Reviews
Just wanted to say that you to you and the team. I have had an amazing and prompt service, and both Andria and Joe have been very friendly and helpful.

- by

Natalie
The good... Your customer service is fantastic, whether it's ordering, reporting a complaint, or requesting an engineer, the staff are always friendly and efficient. Deliveries are fast I never need to be out of stock. You have an enormous range of drinks, enough to cover everyone's taste (and too many for us to stock in a small office) Not so good .. Your wooden stirrers. I understand they are likely to be more environmentally friendly but they leave a taste in the coffee. It would be good if you could bring back the plastic ones. Overall, very happy with UKV K

- by

DTF