Necta Koro Max Prime Espresso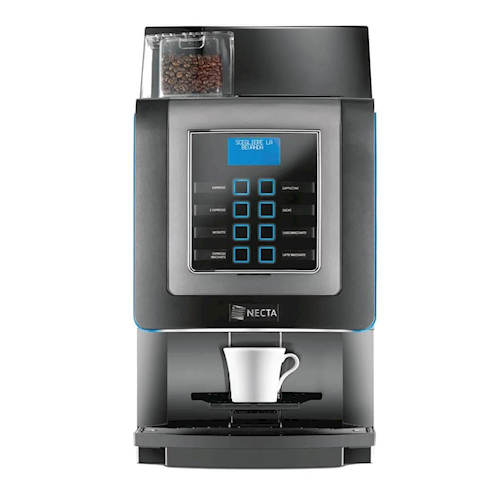 In Stock
Support (UK Mainland)*
Get Quote
Attention to detail, exquisite design, perfect lighting and unrivalled performance make Koro Prime the focus for the ideal coffee break. Koro Prime is designed with soft, modern lines and is manufactured using a perfect balance of materials. The elegant "mood lighting" illuminates both front and sides and there's a large display for managing both images and text.
The backlit, touch sensitive selection panel completes the look of this perfect modern coffee machine: you can see at a glance that Koro Prime is an elegant machine that will enhance any environment.
Superior technology to satisfy every need
If it's style and sophistication you're looking for, Koro Prime has the answer. It comes from the technology and experience of UK Vending, and as a result is the ideal solution for hot drinks services of a superior quality, with a menu to satisfy every taste.
Espresso
Thanks to the patented coffee brewer, the volumetric doser and the perfect extraction, which is required to make the best Italian espresso, Koro Prime offers excellent coffee and a variety of other hot beverages, including frothy cappuccino and creamy hot chocolate.
Simple and stylish
Style and simplicity are synonymous with Koro Prime and its ease of use is down to the simple display and conveniently situated touch sensitive selection panel, which helps the user choose their preferred beverage. It also offers a wide drinks menu and can offer up to eight different drinks, and through their versatility they are at home in any situation. Koro Prime is also small in size and light, making it easy to position into any location and move around.
Necta Koro Max Prime Espresso Specifications
| | |
| --- | --- |
| Hot Water output | Yes |
| Makes Americano | Yes |
| Makes Caffé Latte | Yes |
| Makes Caffe Mocha | Yes |
| Makes Cappuccino | Yes |
| Makes ChocoMilk | Yes |
| Makes Espresso | Yes |
| Makes Flat White | Yes |
| Makes Hot Chocolate | Yes |
| Makes Tea | No |
| Depth (mm) | 530 |
| Height (mm) | 610 |
| Width (mm) | 330 |
| Frequency (Hz) | 50 |
| Power (Watts) | 2030 |
| Voltage (V) | 230 |
| Weight (kg) | 28 |
| Boiler Capacity (Litres) | 0.5 |
| Hourly Output | Up to 60 cups |
| Manual Water Fill | Yes |
| Number Selections | 8 |
| Permanent Water Connection | Yes |
| Plumbed Option | Yes |
| Water Tank Capacity (litre) | 3.2 |
| Beans Capacity | 950g |
| Product Capacity | Whitener 750g - Chocolate 1500g |
Necta Koro Max Prime Espresso Reviews
Excellent service. In the extremely rare occasion when the delivery van has not been able to deliver the water for whatever reason - UK Vending have found a way delivering it within the next two days.

- by

Water Order