UKV Jazz 27
Snack Vending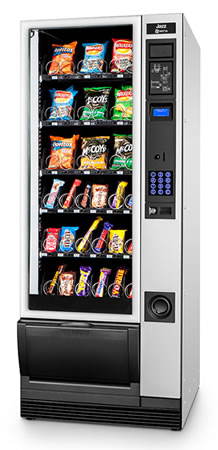 Capacity of 344 items
Choice of 9 crisp selections
Choice of 18 confectionary selections
UKV Jazz 30
Drinks & Snack vending Vending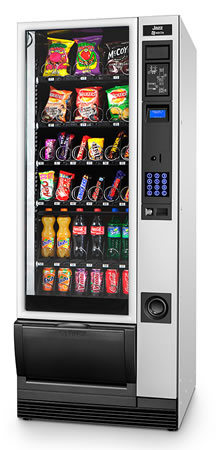 Capacity of 300 items.
Choice of 12 cold drink selections
Choice of 6 crisp selections
Choice of 12 confectionary selections.
or Can & Bottle
Choice of 30 can & bottle selections
UK Vending provides wonderfully simple to operate Snack vending machines that provide a quick and easy way to sell the best selling snacks, crisps and sweets. Moreover, these Snack vending machines can be tailored for your own set of requirements. We can arrange for them to be coin or token operated and each comes with the very latest digital technology and easy to use instructions.
Each machine fits seamlessly into virtually any office or work environment and are extremely durable.
UKVending has two different machines within the UKV Jazz range that can be configured for your workplace; The UKVending Snack Vending 27 and 30. The 27 is ideal for snacks and has a capacity of 344 items whilst the 30 can be configured as a mixed snack and drinks machine or as a drinks only machine with a capacity of 30 cans and drink bottles.
Specifications
Physical aspects: (H) 1830mm, (W) 735mm, (D) 855mm, Weight: 225kg
Refreshment choice of: Snacks, confectionary, cans and bottles.
Flexible layout with option for snacks and confectionary or snacks, cans and bottles.
Compact design slim enough to allow access through narrow doorways
Compact build yet does not compromise on selection options - up to 30 products available.
Ergonomic delivery bin
Anti theft device
Slow closing movement and vend detection system
Capacities vary according to configuration